Santa Cruz Mountains Vintners' Festival!
August 13, 2022
11-4pm with live music from 1-4pm!
Tickets are now on sale!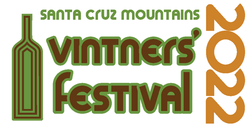 Elevate your taste with wines of the Santa Cruz Mountains during the Vintner's Festival!
Ticket Details:
$80 per person provides access to 25+ wineries throughout the Santa Cruz Mountains all weekend or you can choose a single day at a reduced price. Each experience is seated and cannot exceed 60 minutes. You'll not be able to book overlapping reservations, and our booking system will accommodate for travel time.