Santa Cruz Mountains Vintners' Festival!
May 22 & 23, 2021
After more than a year of being closed, we are very excited to be opening up and particiating in this years Vintners' Festivtal!
---
Perfect for wine enthusiasts and newbies alike, Santa Cruz Mountains VINTNERS' FESTIVAL is a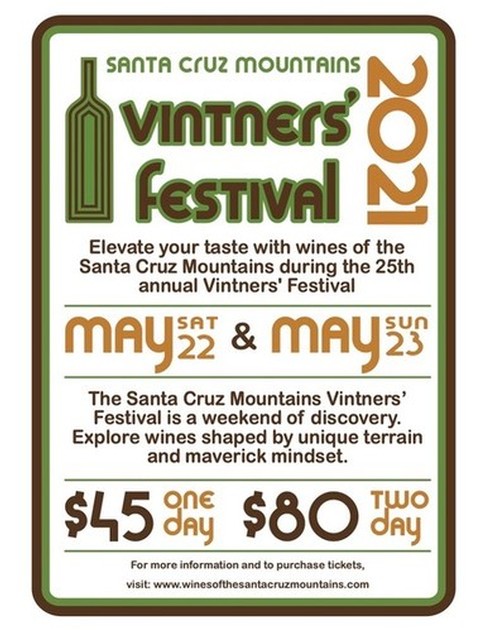 weekend of discovery. Discover wines shaped by unique terrain and a maverick mindset. The Santa Cruz Mountains is a wine region for independent spirits with a taste for the extraordinary. It's a place where soaring cliffs drop into the sea, steep mountain vineyards overlook idyllic small towns, and tradition meets innovation. Visit more than 30 wineries during the 25th Annual Santa Cruz Mountains Vintners Festival.
CLICK HERE TO PURCHASE TICKETS
SATURDAY & SUNDAY, MAY 22 & 23
$45 FOR 1 DAY / $80 FOR 2 DAYS
At each stop guests will enjoy a flight of 3-5 wines delivered by knowledgeable staff that will discuss the wines and winemaking process. Choose up to 4 wineries per day.
Our priority is the health and safety of our guests and community, so all of our wineries will be adhering to strict COVID safety protocols including capacity restrictions to ensure adequate physical distancing.
Reservations are required in order to ensure the safety of everyone, and you will be able to choose which wineries you want to visit ahead of time, and will even be able to see how long it takes to travel to each destination you choose!